The Calyx Story
A short film by filmmaker Shawna Ferreira, The Calyx Story is a tale about alchemy, transmutation, and the bond between The Moon and The Sea. The film stars Julia Crockett (of the Julia Crockett Group), Hillary Ives and Basie Allen, with music by ARP (Alexis Georgopoulos), Aerial East and Stray Echo.
manifesto
In the days of the witches, when spells were cast and potions brewed, the sorceresses would soak their undergarments in their magic to hold their incantations closest to the most powerful parts of their body. The most intimate layer between you and the world, your underwear, should be imbued with power, magic and love.
Each calyx piece is hand dyed naturally with locally grown color, sewn with fair trade silks and manufactured in NYC. The seasons we run on are nature's seasons, our prints dictated by the petals she grows. Our cuts are classic and can be customized for all shapes and body types. We are here to love your bits. Calyx is your amulet, your personal armor and your secret strength. The first thing you put on, and the last thing to be taken off. Calyx holds you in.
about the dyer/designer
Cara Marie Piazza is a natural dyer and artisan based in New York City.
She creates one of a kind textiles only using natural dye stuffs such as botanicals, plant matter, minerals, non-toxic metals and food wastes. She treats her fabrics through alchemical dye sessions, ancient shibori techniques and bundle dyeing, transforming each textile into its very own story. She works with both designers and artists to realize their Natural dyeing needs as well as creates custom pieces for private clients. Keep up with Cara's workshops and events here. Designer and artist clients include: Eckhaus Latta, Alice Waese, Caron Callahan, Dena Yago, Sorry Archive, Club Monaco and more.
calyx bridal service
Immortalize your special day by transforming your
wedding bouquets into an heirloom piece to last a lifetime.
Send us your bouquet or wedding arrangements and we will imbue
a garment of your choice with patterns made from petals.
Please email
info@caramariepiazza.com
for our full price list and to order.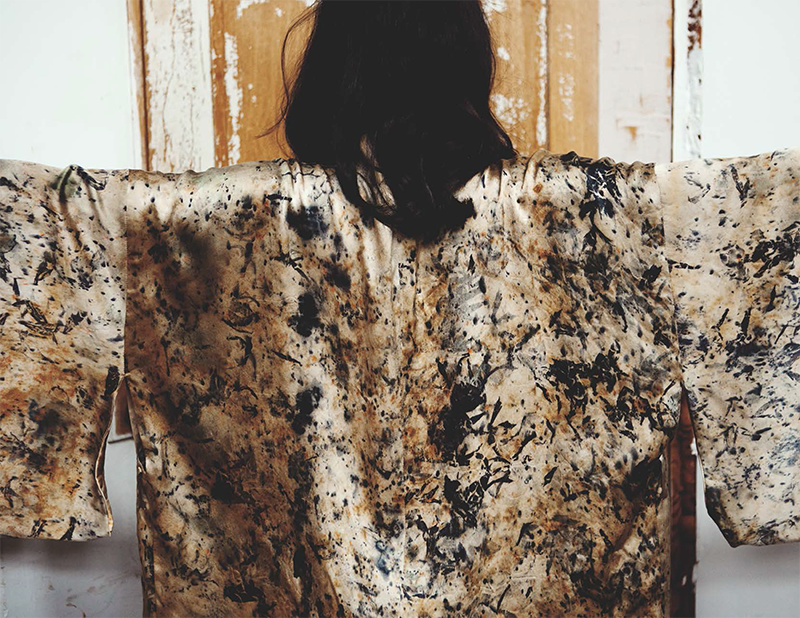 stockists
AMANYARA TURKS & CAICOS
Providenciales, Turks and Caicos Islands,
British West Indies
SAIPUA
177 Dwight Street
Brooklyn, NY 11231, USA
FREAK'S STORE Shibuya
〒150-0041 Tokyo-to, Shibuya-ku, Jinnan,
1 Chome−13−131, Japan
White Album
YCC Bld. B1F 2-1-1, Sengencho, Omiya-ku Saitama-shi,
Saitama, 330-0842, Japan